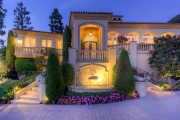 Hosting events, from creative to educational is nothing new for Amber Anderson & Brandon White of Pacific Sotheby's International Realty. Recently the team co-hosted a truly unique offering with Life Lounge San Diego, who strives to connect local business and thought leaders together in constructive forums to exchange ideas and best practices.
La Jolla, CA, July 7, 2015 (Newswire.com) - With strong support from the local business community, all eagerly anticipating a talk by the Honorable James Rosebush, the guests were treated to a special night. Mr. Rosebush spoke on his time with former President Ronald Reagan, and his years of service in Washington. The guests were treated to several stories from arguably the country's most popular public figures. Rosebush took the participants back in time to critical moments that shaped US history and was able to crystallize what made Reagan a principle driven man, a tough negotiator, a respected diplomat and an international icon.
The home was the residence of local icon and national investment guru the late Charles "Red" Scott, who founded Intermark Inc, a renowned holding company with sizable share interest in recognizable brands like Pier One Imports, among other household names.
The event featured a local gourmet restaurant, wine maker, distillery, and Ferrari / Maserati of La Jolla sponsored a test drive experience. Local brokers have been forced to change the traditional marketing game plan. Anderson & White have been leading the charge partnering with many non-profit entities over the last 3 years. The connection between the worlds most recognized luxury real estate brand Sotheby's and premier speaking event is simple. . "A private event allows us to assist our collaborative partners, but also presents an opportunity to showcase the home in a unique light". Anderson has said "as a team we felt that participating in this series of events would really provide value to the local business community. Originality and creativity is what truly sets us apart".
Share: