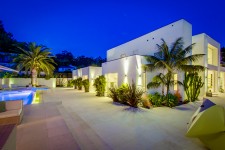 Gad "The Gadget Man" Shaanan, inventor, industrial designer channels Bauhaus to build a sensational coastal home, engineering a quick sale via video marketing campaigns.
LA JOLLA, Calif., October 31, 2018 (Newswire.com) - As one of the central influences of modernist architecture, "Bauhaus" became the fundamental inspiration for a stunning home built by a Canadian industrial designer whose products can be seen around the world.
Gad Shaanan procured the services of architectural & video marketing specialist Amber Anderson of Pacific Sotheby's International Realty. The home hearkens back to the legacy of contemporary architecture, as it's one of the predecessors to postmodernism. Logic and reason would suggest that such a spectacular home should have been snapped up in a matter of weeks, but alas prior to Anderson's involvement it spent the better part of three years on the market.
Video marketing is an inescapable future for real estate promotion.

Amber Anderson, Sotheby's La Jolla
homeowners Video marketing is by no means an innovative concept, but rather the delivery of the medium is crucial when presenting a property.
Prior to Anderson's involvement, the essentials of real estate marketing were deployed, not yielding a result. Once retained she immediately recognized the core message was fatally flawed. Sometimes it not just about the square footage & views, rather the emotion, the story and how it's conveyed. With this home and every other, ultimately video takes the lead. Video has a transformative effect on viewers, creating extraordinary experiences, and there's no better example of this than "Bauhaus" one concept explored through Anderson's videos that received over 30,000 views in less than one month. Bauhaus architecture is arguably one of the most influential in all modern works.
This is where the power of the medium enters, with multiple videos a viewer is taken on a journey across several social media platforms and content websites alike, each with a curated message that can appeal to emotion, analytics, or even art. Will savvy homeowners continue to seek out real estate brokers that use video in their marketing plans, certainly. What we don't know is how pervasive it will become.
Anderson White & Associates is a top producing team with Pacific Sotheby's International Realty in La Jolla, California. The trend-setting marketing team utilizes a diverse promotional platform, which includes HD video production, aerial photography coupled with exclusive corporate partnerships to the world's most significant media companies, including the New York Times, The Wall St. Journal, Daily Telegraph and Architectural Digest.
The Sotheby's International Realty network currently has more than 17,000 independent sales associates located in 800 offices in 61 countries and territories worldwide. Each office is independently owned and operated.
Source: Anderson White & Associates
Share: