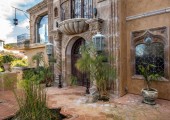 La Jolla is home to a plethora of architectural diversity, from innovative contemporary estates, to turn of the century classics. To build a custom home that is distinctive, among so many other fine specimens is rare.
La Jolla, July 14, 2014 (Newswire.com) - Local resident, Malcolm Stallings III has taken a passion for Spanish old world craftsmanship and re-created a home that would have stood on the same hillside prior to 1849. This labor of love was completed over a period of 7 years, with an intense focus on detail. The original 4,200 square foot lot became the canvass for a piece of classic art without equal.
Inspired and captivated by the exquisite architecture the Spaniards have mastered for over 500 years, Christopher Jasak and Mario Zumaya set out to bring this style of design and architecture to America. The founders of Envie Design & Development have spent years researching, photographing, and documenting true Spanish Colonial Architecture, and their passion and expertise has allowed them to reproduce and share majestic treasures.
Casa De Coral is organic and sensual in every detail. The house, with 3 master suites captivates visitors in a dream, beginning with multiple gardens and fountains, resonant of Old Spain. Nestled into the hillside, surrounded by manicured greens of the La Jolla Golf Course, is an adobe colored casita framed by columns, arches, and entire walls of stone, all hand carved in Mexican limestone as done 300 years ago. This exquisite style is reminiscent of Moorish, Neo-classical, Baroque periods of the New Spain, Mexico!
The living room with the stunning views of the sweeping coastlines of La Jolla is the center point of this enchanting property. In the twilight, the house is lit with Spanish lamps hanging softly, illuminating the limestone that surrounds the home. This casts a golden glow on the massive, thick, hand carved, wooden doors that guard the antique fixtures and embraces the lime plastered walls made from natural pigments.
Stalling's imaginative vision, blending a classic finish with modern luxuries is a true delight. This whimsical estate was designed with purpose and passion in age dominated by cookie cutter development. The estate is currently on the market with Pacific Sotheby's International Realty's top international agent Amber Anderson.
Share: