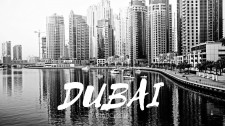 DUBAI, United Arab Emirates, July 29, 2018 (Newswire.com) - Amber Anderson and Brandon White are no strangers to working around the globe, as Amber is a highly sought-after speaker for her imaginative approach to marketing, while Brandon has sold property in 3 different countries; between the two there's no shortage of international experience.
The setting, Dubai, is a visionary city that has charted an ambitious course from a charming trading port, to global hub for financial services, logistics, tourism, hospitality and trade. The driving force behind the inevitable transition from a non-renewable resource-based economy to the aforementioned was the foresight of Zayed bin Sultan Al Nahyan, the first ruler of the UAE. Real estate development both commercial and residential played a critical role shaping the area to what we see today.
The power of the relationships we create is immeasurable, and therefore we return year after year.

Amber Anderson , Luxury Realtor
As active members of FIABCI (The International Real Estate Federation), Anderson & White saw this congress as the perfect vehicle to promote their cache of luxury properties, which includes Essencia, a $14,500,000 property perched high atop a mountain in La Jolla with sweeping views of the coastline. The congress attracted over 1,000 participants who represent over 70 countries, across every discipline in the real estate industry. FIABCI's presence is rather strong, as it holds a consultative seat at the United Nations, so it was little surprise to have Hamdan Bin Mohammed bin Rashid Al Maktoum, the Crown Prince of Dubai in attendance for the opening ceremony. Previous World Congresses had taught Anderson & White to strategically split one's time in both formal and informal proceedings in Dubai. "Imagine having the opportunity to spend 4 days with the most influential real estate leaders in the world, breaking bread, sharing ideas, strategies, as well as best practices."
Four days of meetings, presentations and lectures were interspersed with social events that were beyond belief. From experiencing a traditional Emirati meal and performance at the iconic Atlantis resort, to a private evening at the world's only 7 Star hotel, The Burj Al Arab home to Gold on the 27th is a place where everything is literally covered in 18-24 karat gold; trash cans in the restrooms are not an exception. Other social outings included a visit to the Burj Khalifa, at one point the worlds tallest freestanding structure. Not to be outdone by other competition, Dubai will silence the debate by the erection of "The Tower" by year 2020, which will stretch approximately 1km into the desert sky (that's about 0.6 miles to those of us still using the Imperial system).
Ever since they teamed up in 2012, Amber and Brandon have always led with a brand first mentality, as the leverage created with the name Sotheby's Realty is too influential to ignore. Lest we forget, outside of the United States the vast majority of what many know as familiar real estate brands simply don't exist. As Anderson & White promote their properties abroad, local exposure is equally important. San Diego is one of the top international destinations with over 35 million visitors annually. The Pacific Sotheby's Global Headquarters in La Jolla is where Amber Anderson & Brandon White's office is located, but this too is not an accident, as they understand the importance of promoting their luxury properties to the affluent resident and visitor base.
A local San Diego chapter of FIABCI has been initiated and a launch event will be scheduled for late September. For more information contact Amber Anderson.
Source: Anderson White & Associates
Share: