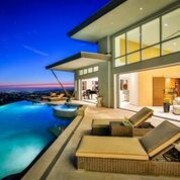 Anderson, White & Associates of Pacific Sotheby's International Realty have recently listed for sale an award winning, ultra contemporary architectural estate on Mount Helix (San Diego).
San Diego, CA, July 13, 2015 (Newswire.com) - A secluded mountain with astounding views is the setting for one of San Diego County's premier architectural builds. The 4000 sq ft estate designed by local architects Frontis & Young, creates a sense of awe to all those who gaze upon its beauty and stylishly imagined concepts. Floor to ceiling glass and sleek structural steel opens westward to the Pacific. The site is placed delicately on a flattened portion of the otherwise rugged hillside.
Designed with cantilevered roof lines and a precise understanding of solar trajectories maximize available ambient lighting which flows throughout. The panoramic views captured in nearly every room, are virtually unobstructed from as far south as Mexico to the Coronado Islands with a site that "stretches out over the horizon to the south and west as if a bird was about to take flight off a cliff", noted principle designer Scot Frontis.
The open floor plan is accentuated by the soaring ceilings and imported Chinese quartz flooring. The spacious living area, complete with a stately black granite fireplace wall, multi-slide glass doors disappearing into the walls, showcasing the stunning views of the San Diego skyline.
To promote a luxury home of this caliber successfully, one must ensure access to a vast global audience, have responsive, well integrated marketing schedules, all tailored to targeted demographics. One of the owners of the home Larry McIntosh understands the importance of creating and delivering a clear message. A guru in the marketing and branding space, McIntosh's experience includes positions as "Senior Vice President" of Worldwide Corporate Marketing for McAfee, VP Advertising and Branding Frito Lay, VP Advertising and Branding Pepsi-Cola International, with his most position as CEO at ID Analytics, (recently acquired by LifeLock Inc, the leading provider of identity theft protection). With a home so unique, media positioning can be a critical component insuring an expedited sale.
Frontis & Young's imaginative design concept soars above the clouds. Staggering panoramic views, crisp, clean lines, and custom interior and exterior details blend perfectly together to create a bold residence that is sure to leave you speechless.
Share: