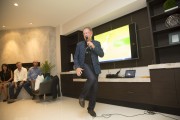 A stunning 12 million estate in the Coronado Cays served as the backdrop for Anderson, White and Associates' most recent private client event. The Pacific Sotheby's La Jolla based team has once again partnered with Tim Owens' Life Lounge SD and their innovative cross generational business leadership forum.
Coronado, California, October 27, 2015 (Newswire.com) - From the moment you entered the luxury estate, you couldn't help but feel the evening was going to be special. From the Maserati's parked in the driveway, to the 80 foot yacht moored to the home's private dock, no lifestyle need was overlooked. New comers to the San Diego distillery scene, Old Harbor were an astounding success, as where Wilson Creek Wineries, who have been serving up their unique wines for over two decades.
Luxury lifestyles and the exquisite ambiance were showcased to a diverse crowd of business professionals, corporate executives and entrepreneurs a like. In the spirit of the event, millennial s mingled with baby boomer's, while Gen X gabbed with Gen Y. The facilitated discussion tackled both the underlying challenges and opportunities in the changing macro-economic landscape.
"These events provide us with a platform to expose our luxury estates to the right demographic of qualified individuals in a simple, yet powerful fashion. Originality and creativity is what truly sets us apart."

Amber Anderson, Luxury Realtor
The keynote speaker, no stranger to the national speaking scene; Brian Smith delighted the crowd with his journey into building the internationally recognized brand UGG. The presentation uncovered teachings of his breakthrough business strategies that empower entrepreneurs to implement concepts like personal vision and creativity into company culture. With new events every quarter, Life Lounge's partnership with Pacific Sotheby's International Realty is expanding.
About Anderson White & Associates
Founded by Amber Anderson and Brandon White, Anderson White & Associates is a top producing team with Pacific Sotheby's International Realty in La Jolla, California. The trend setting marketing team utilizes a diverse promotional platform, which includes HD video production, aerial photography coupled with exclusive corporate partnerships to the world's most significant media companies, including the New York Times, The Wall St. Journal, Daily Telegraph and Architectural Digest creates an unparalleled level of exposure. Amber Anderson is considered an international real estate expert and travels the globe exposing her inventory of luxury properties to the buyers of the world.
About Sotheby's International Realty
The Sotheby's International Realty network currently has more than 17,000 independent sales associates located in approximately 800 offices in 61 countries and territories worldwide. Each office is independently owned and operated.
Share: